BAREBONE
is a four-piece Alternative/Hard Rock Band from Cyprus.
May 2021
- release ot their new single:
War In Eden
February 2020
- re-release of EP
Bite The Apple
in Germany with 7Hard record label.
EP has bonus track:
Tonight
May 2019
- Barebone´s track "Vampires" hits
the FIRST
place in Slovakian
Top 10 Rock Charts
.
March 2019 - Barebone releases its first EP
"Bite the Apple"
. The Godfather of the CD is
"Kuko"
from the band
"Horkyze Slize"
.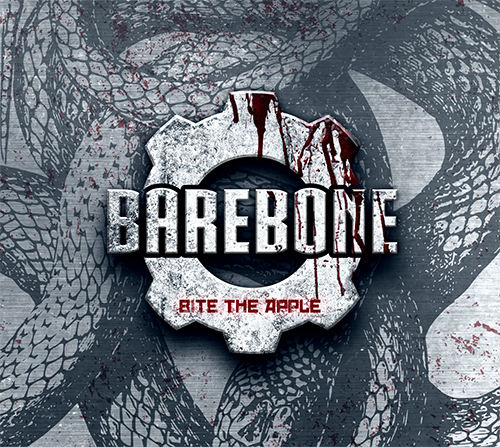 1.
Since You're Gone
(4:18)
2.
All Around the World
(4:50)
3.
Edge of the Blade
(4:48)
4.
Vampires
(4:24)
5.
Black Medicine
(4:52)
September 2017 - The Barebone song
"Edge of the Blade"
wins
Best Rock Song for 2017
, at the
Los Angeles Akademia Music Awards
. This further establishes the "stoner" guitar riff powered sound of the band.
July 2017 - the band takes part in one of Europe's biggest rock festivals, the
"Masters of Rock Festival"
(CZ) which attracts over 40,000 people every year. There, Barebone shared the stage with legendary bands such as: Stratovarius, Sepultura, Moonspell, Saxon, Running Wild, Sabaton and Kreator.
Short video from our Show
March 2017- Barebone changes their musical direction to a more Stoner/Rock riff driven sound, with the advent of the bands new guitarist George Solonos, who also produced the track
"Black Medicine"
. The track was soon accompanied by a
music video
, directed by Emilios Avraam.
August 2015 - The band takes part in one of the largest festivals in Slovakia
"Slížovica"
, performing with many Slovakian musical legends.
April 2015 - Barebone releases their first track/video
"Early Years of My Dementia"
. The track was produced by Marek Rakovicky and directed by Adam Felix. This was followed by the Slovakian/Czech Republic tour in Bratislava, Kosice (SL), Nitra (SL), Pisek (CZ) in May 2015.
February 2014 - The band is invited to perform as guest band, in the
"Horkyze Slize"
and
"Polemic"
tour. During the tour the band records the track
"Jebat"
(SOAD - Chop Suey) live, in Slovak with lyrics written by Peter Kuko Hrivňák. "Jebat" was later released as a video with over 1 million views on youtube to date.